Dawn Wells
starring in
"WHAT WOULD MARY ANN DO?"
Confessions Tour

50th Anniversary of "Gilligan's Island"

Also Available for Lectures, Film, Television,
Stage and Radio Appearances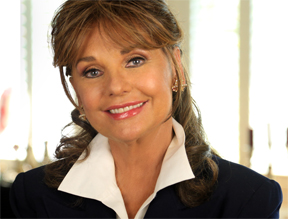 Dawn Wells
A Biography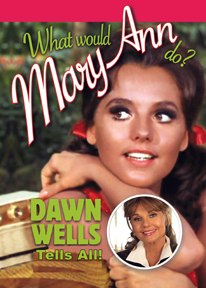 Dawn Wells is an actress, producer, author, spokesperson, journalist, motivational speaker, and teacher. Most of you know her as "Mary Ann" on "Gilligan's Island," the longest running sitcom still showing worldwide in over 30 languages; however, there is so much more to Dawn Wells than "Mary Ann". Dawn released a book "What Would Mary Ann Do?" in September 2014 to coincide with the 50th Anniversary of the premiere of "Gilligan's Island." The book is part self-help, part memoir and part humor - with a little classic TV nostalgia thrown in for good measure.

Dawn was born and raised in Reno, Nevada. Dawn had dreamed of being a ballerina but bad knees prevented her from pursuing this dream. She attended Stephens College in Columbia, Missouri, where she majored in chemistry. However, she then transferred to University of Washington in Seattle, where she graduated with a degree in theatre arts and design. In 1959, she competed and won in the Miss Nevada pageant and went on to compete in the 1960 Miss America pageant. After graduating University of Washington, Dawn moved to Hollywood to start her acting career.


Dawn has done over 150 Television shows, over 70 theatrical productions, and a number of Feature Films. She was Co-Executive producer of one of the highest rated CBS movie-of-the-week, "Surviving Gilligan's Island," in which she starred and hosted. She also Co-Executive produced, "Return to the Batcave," another movie-of-the-week about the 60's Batman TV series. Dawn appeared in the feature films This is Our Time and Silent but Deadly. She also appeared in the feature film, Super Sucker, written, produced, directed, and starring Jeff Daniels.

Dawn has had television recurring roles on "Growing Pains," "The Love Boat," "Bonanza," "Hawaiian Eye," "Surfside 6," and "77 Sunset Strip." Other television credits include: "Three Sisters," "Meego," "Roseanne," "Columbo," "Herman's Head," "Baywatch,"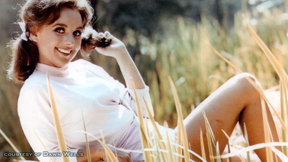 "ALF," "Matt Houston," "Gilligan's Planet," "Fantasy Island," "Hagen," "Vega$," "The FBI," "The Wild Wild West," "The Invaders," "Burke's Law," "The Joey Bishop Show," "Channing," "The Third Man," "Ripcord," "Laramie," "It's a Man's World," "Lawman," "87th Precinct," "Tales of Wells Fargo," "Everglades," "The Detectives," "Wagon Train," "Cheyenne," "Maverick," and "The Roaring 20's." Television movies-of-the-week credits include: High School USA, The Harlem Globetrotters on Gilligan's Island, The Castaways on Gilligan's Island, and Rescue from Gilligan's Island. She was also seen on such shows as "Today Show," "Steve Harvey," "FOX News," "Tonight Show," "Joey Bishop Show," "Password," and more.

Her feature film credits include: The New Interns, Forever for Now, Lover's Knot, Soulmates, The Princess and the Drawf, Return to Boggy Creek, The Town that Dreaded Sundown with Andrew Prine, Winterhawk (which she starred in and also narrated).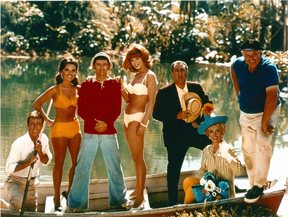 Dawn has starred in theatrical productions by playwrights such as Noel Cowards and Neil Simon, as well as the National Tours of Chapter Two and They're Playing Our Song. She has also appeared in Fatal Attraction with Ken Howard, the revised female version of The Odd Couple with Marcia Wallace, The Allergist's Wife, Love Letters with Adam West, Steel Magnolias, Nuncrackers, Always Patsy Cline,the North American premiere of Lawrence Roman's Make Me a Match, as Eleanor of Aquitaine in The Lion in Winter, and The Vagina Monologues. Dawn also starred as Gingy in Love, Loss and What I Wore in New York, Chicago, Delaware, Scottsdale, San Jose, and Laguna Beach.

She hosted a CBS variety show called, "TVs All Time Favorites," a Western Union commercial, many voice--overs, and countless radio and television talk show appearances, including "The Today Show" (four times). While serving as Australia's Castaway Correspondent she interviewed talents such as Robin Williams, Mel Gibson, Tom Hanks, Eddie Murphy, Rene Russo, Ron Howard, Richard Donner, and Julia Roberts. In 2013, for the premiere of Sandra Bullock's movie Gravity, Dawn presented her with a Coconut Cream Pie, as the two women both know what it's like to be stranded. Dawn has been a guest "Chef Du Jour" for a week on the TV Food Network (which is no surprise), as she has also written her first cookbook called, "Mary Ann's Gilligan's Island Cookbook" and her second cookbook is due out soon. Dawn has co-produced and hosted the Children's Miracle Network Broadcast for 15 years in Mid-Missouri as well as her own female fishing show called, "Dawn Wells' Reel Adventures," on which she has gone fly fishing all over the world.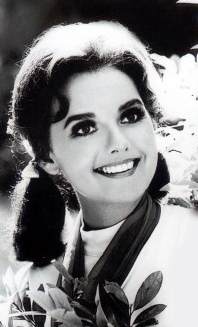 One of Dawn's most exciting endeavors was establishing the Dawn Wells Film Actors Boot Camp in Driggs, ID, where for one-week intensive sessions during the summer, up-and-coming actors learned the art of Acting on Camera as well as the business of the Film Industry. Her focus was to encourage young artists through education, mentoring, and hands on experience. Dawn is also the founder and producer of the Idaho Film & Television Institute (IFTI), a non-profit educational organization, which included a first track accredited film school and crew college, which provided training for behind-the-camera skills. In 2004 Dawn produced the first annual Spud Drive-In Family Film & Music Festival at the historic Spud Drive-In Theater in Driggs, ID.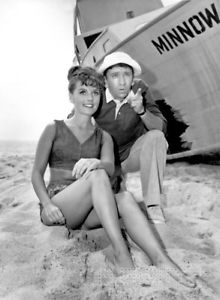 Dawn serves on many boards, including as a Trustee for Stephens College (one of Alma maters) and is also a graduate of the University of Washington. She serves on the University of Missouri Children's Hospital Advisory Board, and the Board of Women in Film and Video. Dawn is also a Chairwoman Terry Lee Wells Foundation, a foundation that focuses on women and children in Northern Nevada.

Dawn is an avid world traveler, having climbed the mountains in Rwanda to view the mountain gorillas, canoed the Solomon Islands, where women had never been before, and has been on five Safaris as well as flying around the world on the Concord.
For More About Her Show Go To:
"What Would Mary Ann Do?" Confessions Tour

For Bookings or Appearances, Please Contact:
J. Cast Productions • 2550 Greenvalley Road • Los Angeles, CA 90046-1438
(323) 822-1999

email: JCast@CastProductions.com

Copyright © 2000 - 2015 J. Cast Productions - All rights reserved.