Nicholle Tom
starring in



by Jack Heifner
The Long-running Off-Broadway Smash Hit Comedy!

Also Available for Lectures, Film, Television,
Stage and Radio Appearances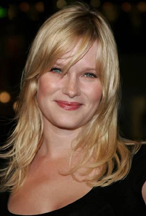 Nicholle Tom
A Biography
While best known for her roles as Maggie Sheffield on "The Nanny," and as Ryce Newton in the Beethoven films, this sexy and talented actress is recognized world-wide. Recently, Nicholle appeared as Maureen on the Showtime hit series "Masters of Sex" with Michael Sheen.

Additionally, Nicholle is in post-production on the first film she Co-Produced 3's a Couple. A story about two best friends who are complete opposites. They share everything, a house, bills, friends, and eventually … a girlfriend, (played by Nicholle) who neither man is willing to give up. Recent film projects include Private Number with Tom Sizemore and Saturn Returns.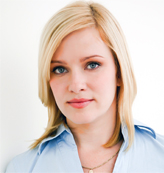 Nicholle's vast acting career has taken her on many great adventures and has challenged her to play versatile characters in both comedy and drama. She is very proud portraying the title role from the CBS movie-of-the-week, "The Book of Ruth," where she co-starred with Emmy-winner Christine Lahti. The Hollywood Reporter hailed, "Tom is simply magnificent, a tortured mosaic of inhibition and angst whose tears feel agonizingly real…The two female leads in 'Ruth' give Emmy worthy performances."

Nicholle also starred in the very first comedy TV series made for the Independent Film Channel (IFC), "The Minor Accomplishments of Jackie Woodman," with Laura Kightlinger (producer, writer, actress "2 Broke Girls," "Will and Grace"). Nicholle played her very ambitious best friend and partner in crime, Tara Winsel, who will sell her soul to make it in Hollywood.

Nicholle was born in Hinsdale, Illinois and started her career at the age of eight. She first appeared in print ads and commercials in Chicago and then moved west to Seattle. At the age of 10, Nicholle and her family, mother Marie, twin brother David (Pleasantville, "Veronica Mars," "The Young & the Restless"), and sister Heather ("The Bold and the Beautiful," "One Life To Live," "The Young & the Restless"), moved to Los Angeles. She began studying theatre at The Young Actors Space. Three years later, her dedication and hard work paid off when she was cast as Charles Grodin and Bonnie Hunt's oldest daughter in Ivan Reitmans' film Beethoven, as well as the sequel, Beethoven's 2nd.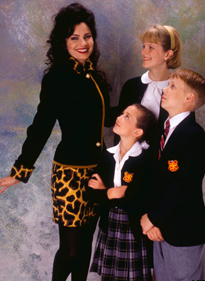 In 1992, Nicholle was cast as Maggie Sheffield in the hit CBS sitcom "The Nanny" with Fran Drescher and Charles Shaughnessy. It ran for a successful six seasons on CBS and continues to be one of the most shown re-run sitcoms on multiple networks. In 2004, the entire cast got back together at Fran Drescher's home to film "The Nanny Reunion: A Nosh to Remember."

Her notable film roles include: The winner of "The Grand Jury Award" at CineVegas, In Memory of My Father with Jeremy Sisto and Judy Greer and directed by Christopher Jaymes, Panic with William H. Macy, John Ritter, Donald Sutherland and Tracy Ullman, The Princess Diaries with Julie Andrews and Anne Hathaway, Hang Loose; Bottoms Up with Paris Hilton, Jason Mewes, & Kevin Smith, Robbie's Brother, Rave, The Sterling Chase, What Kind of Mother Are You? with Mel Harris, to name a few. Her short films include: Mi Corazon, Just Like Her with Michael Gross, A Mi Amor Mi Dulce, and Urban Chaos Theory.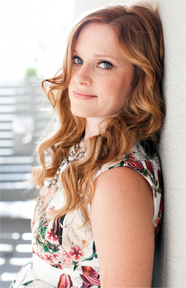 Nicholle's other recurring television roles include: David E. Kelley's "The Wedding Bells" as Laine Hill, (she and real life sister Heather were cast together as twins). On the hit TV show "Beverly Hills, 90210" she recurred as the troubled Sue Scanlon and Elisa/Mother on "Windfall". She has guest starred on "Castle," "Mental," "Without A Trace," "The Mentalist," "Cold Case," "Criminal Minds," "Burn Notice," "Strong Medicine," "Welcome to Paradox," "The Fresh Prince of Bel-Air". She also has starred in several Movies-of-the-Week such as CBS's "Indecent Seduction" also titled "For My Daughter's Honor," portraying a high school girl seduced by her teacher, played by Gary Cole, Fox Family Channel's "Ice Angel" with Olympic medal winners Tara Lapinski and Nancy Kerrigan, to name a few. Nicholle has played / voiced the same character Supergirl / Kara Kent in three different cartoon / animated series: "Justice League," "Superman," and "The New Batman Adventures." She also reprised her role as Ryce Newton in the animated "Beethoven" series along with being heard in the "Jim Henson Presents Mother Goose Stories."

Nicholle has appeared on a number of talk and award shows, she was nominated nine times for her work on "The Nanny," "For My Daughter's Honor," Beethoven, Beethoven 2nd, and "Welcome to Paradox."



Her live theatre credits include a very successful revival of Neil Simon's Biloxi Blues with Chad Allen appearing in the role of Daisy, alternating the role with her sister Heather Tom. The revival won five Dramalogue Awards. She has also appeared as Mandy in Serious Inquiries Only by D. Paul Thomas with the late Kathryn Joosten, and in Women in Wallace. Nicholle joined J. Cast Productions' national tour in 2014 playing Kathy in the Long-running Off-Broadway Smash Hit Comedy, Vanities by Jack Heifner, performing throughout the USA and Canada. She will be performing with co-stars Sonia Satra ("Guiding Light" & "One Life To Live") and her sister Heather Tom ("The Bold and the Beautiful") whenever her shooting schedule allows. Go to www.CastProductions.com for more information.

Aside from acting, Nicholle is also an accomplish painter and looks forward to doing more art shows to share her work. In her free time she enjoys taking impromptu road trips and seeing the world, and spending time with her friends and family.
Go To: VANITIES story line
Cast:
Heather Tom
Sonia Satra
Nicholle Tom

Jack Heifner , Playwright
John Castonia , Director/Producer
This national tour of VANITIES has been on the road since October 1996 with
5-Time Emmy Award Winner! Heather Tom.


For Bookings or Appearances, Please Contact:
J. Cast Productions • 2550 Greenvalley Road • Los Angeles, CA 90046-1438
(323) 822-1999

email: JCast@CastProductions.com

Copyright © 2000 - 2015 J. Cast Productions - All rights reserved.