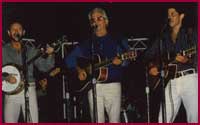 Kingston Trio Biography

The Musical Institution Goes On!
The Kingston Trio is one of the few group today that has survived the many changes in the world of music. They have remained consistent in their sound, which probably explains their resurgence in popularity over the last few years.

The Kingston Trio consists of Bob Shane, George Grove, and Bob Haworth.

The original Kingston Trio was formed in 1957 by Bob Shane, Nick Reynolds and Dave Guard while the three were attending college in the San Francisco Area. Using only acoustic guitars and banjoes, singing simple yet memorable melodies, they revolutionized popular music, reawakening America to its own rich folk-music heritage. The release of "Tom Dooley" in October of 1958 began the "folk music revival" and set the stage for Dylan, Baez, Peter, Paul & Mary and the entire protest music movement of the 60's. The Kingston Trio was the number one vocal group in the world, a musical and cultural phenomenon whose record sales and concert draws were matched only by the Beatles.

In 1961, after two Grammy Awards and numerous gold records, Dave Guard left the group and John Stewart was introduced, maintaining the Trio for another six years. In 1967, Bob, Nick and John disbanded the Trio to pursue individual careers. "Pop music tastes were changing again," says Shane: "that whole 'rock revolution' thing spread from San Francisco across the country, and took a lot of our audience with it. But you know, folk is timeless, so you might as well keep it alive." That's exactly what Bob has been doing for 42 years.

In 1976, after working 9 years as the New Kingston Trio with various members, Bob with the lineup of Bob Shane, Bill Zorn and Roger Gambill, purchased the name. Bill Zorn had to leave very soon thereafter to fulfill a record producing contract with his brother in England, and George Grove joined the group.

In 1985, The Kingston Trio lineup changed again following the untimely death of Roger Gambill. "We were devastated by the loss of Roger," says George Grove, "but The Kingston Trio as a group is a musical institution that had to go on, just as it has for 28 years. Bob Haworth joined the group for 3 years. Bob had other commitments after that, and in 1988 Nick rejoined the group after a 21-year vacation. In 1999, Nick retired and Bob Haworth came back, and the Trio continues.

Indeed. The Kingston Trio's trademark three-part harmony and clean, crisp sound keeps them touring 30 weeks a year, and George Grove has arranged and scored their music for the symphony, enabling them to play approximately 20 major symphony concerts a year. What's more, they are attracting an even increasing number of new fans, both young and old.

As Bob Shane puts it, "There is a tremendous demand for our type of acoustic music, and not just form those who remember The Kingston Trio. With more story songs, I think we could attract listeners even among very young children." "All the people want is for us to sing a song, tell a story, and make it good." They have been doing just that since 1957.
For Bookings or Appearances, Please Contact:
J. Cast Productions, 2550 Greenvalley Road, Los Angeles, CA 90046-1438 (323) 822-1999
email: JCast@CastProductions.com
HOME | THEATRE | COMEDY | MUSIC | LECTURES | SPECIAL | CONTACT
---