Susan Anton
in
Blonde and Blues
Available in Concert,
for Film, Television, Stage and Radio Appearances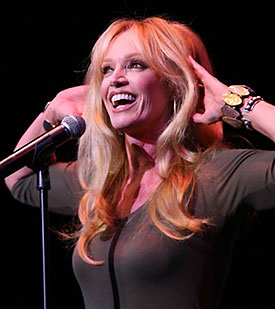 Susan Anton
A Biography
International Recording, Film, Television and Stage Star, Susan Anton has a powerful voice that brings the house down in a concert show titled Blonde and Blues backed by her five-piece band.

When the curtain came down on the July 31, 2000 performance of the Great Radio City Music Hall Spectacular at the Flamingo Hilton in Las Vegas, Nevada, the occasion marked not only the end of Susan Anton's longtime association with the production (over 5000 performances) but a milestone as one of the most enduring and versatile performers in show business. It was in the 70's that Susan Anton first burst into public consciousness and, ever since she has been captivating television, theatre, and film-going audiences with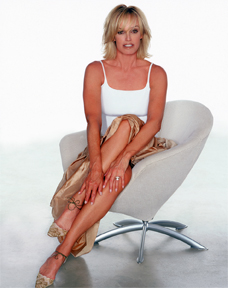 an ingratiating style and easy charm that is found among only a handful of performers. Her five and a half year tenure in Las Vegas as Special Guest Star with the Great Radio City Music Hall Spectacular and its renowned Rockettes, preceded by a 2 year U.S. national tour of the same production, makes her not only one of the most popular and glamorous stars on the Las Vegas Strip, but a true veteran of the theatre. During time off from the Radio City show, Susan headlined her own one woman show to sold-out audiences for two months at the prestigious Desert Inn Hotel and brought back to Las Vegas a type of entertainment rarely found there today.

Far removed from the glamour and lights of Las Vegas, however, was Susan's early life…a life that bore more than just a slight resemblance to television's Walton's. The daughter of a police detective and the eldest of five children, Susan was raised in the small town of Oak Glenn, California, on an apple ranch. Each morning, she would ride her horse Domingo to a one-room schoolhouse where, in her third year, she was one of only two people in the entire third grade class. Her first foray intro performing came during the third grade talent show where she played Hungarian Rhapsody on the piano. Oak Glenn legend has it that Susan won the talent show that year "hands down".

Susan attended high school in the neighboring valley of Yucaipa. And, it was there, that her life began to change dramatically. On a dare from her high school boyfriend, she entered the Miss Redlands beauty contest. Entranced with the charisma of such performers as Doris Day, Susan Hayward, and Ginger Rogers, Susan elected to sing the torch song, Since I Fell for You. The powerful performance, along with her intellect and obvious beauty, left the judges with no decision other than to award her the Redlands title. Little did she know, however, that the contest was a prelude to Miss America and the first step to what would become an illustrious career spanning four and a half decades.

Susan continued her success in pageants by winning the Miss California crown in 1969 and went on to become second runner-up to Miss America in 1970. She so dazzled the audience and judges in the talent portion of the pageant, that her plan to become a child psychologist went by the wayside and the idea of becoming an entertainer prompted her to pack her bags and move to Hollywood.

Well, not exactly Hollywood, but Pasadena where her high school boyfriend had just moved. Unfortunately, any thoughts Susan had of a quick segue to stardom were quickly diminished when she found herself cleaning office buildings at night to pay the rent. Relief came soon, though. Within a couple of years, she received her first big break when she inherited the title of the Muriel Cigar Girl from internationally famous singer Edie Adams.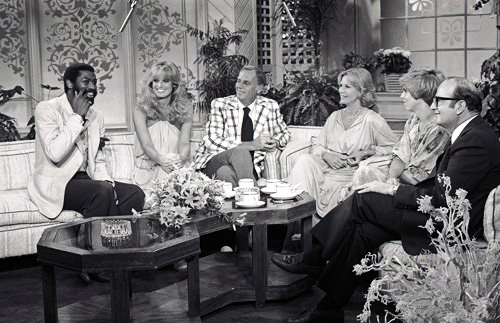 Susan appeared in numerous television commercials as the Muriel Girl. Her co-stars in those spots often included other budding stars such as Treat Williams and Tom Selleck. The campaign, hugely popular with the American public, was the catalyst for many appearances on the Las Vegas Strip, the first in which she headlined a production called Turn it On with French heartthrob Jean-Paul Vignon at the Hacienda Hotel. From that point forward, she appeared frequently on "The Merv Griffin Show" and quickly became one of Merv's favorite guests. Susan's appearances on 'Merv' placed her firmly in the national spotlight and served as a launching pad for her transition into theatre, films and television.

Susan made her Broadway debut by replacing Candice Bergen in David Rabe's Tony nominated play Hurleyburly, directed by Mike Nichols. The show not only featured Susan, but a cast of both established stars and newcomers, including Danny Aiello, Kevin Spacey, and Frank Langella. Preceding Hurleyburly, she starred in the U.S. national touring company of the Neil Simon/Marvin Hamlisch musical They're Playing Our Song and toured the U.S. with Elizabeth Ashley in A Couple of White Chicks Sitting Around Talking. She returned to Broadway in 1991 to co-star with Keith Carridine and the original Broadway cast of Tommy Tune's Tony Award Winning musical The Will Rogers Follies.



Susan returned to the stage when she starred in Eve Ensler's The Vagina Monologues at the Alcazar Theatre in San Francisco (June 2001), the Canon and Coronet Theatres in Los Angeles (August 2001) and the Cashman Center Theatre in Las Vegas (October 2002). In 2006, she is costarred in Hairspray in Las Vegas with Harvey Fierstein and in 2011, reprised her role of Velma Von Tussle in the Hollywood Bowl production of Hairspray. In 2007, she did the national tour of All Shook Up! In 2011, she appeared in Grumpy Old Men—The Musical in Canada with Conrad John Schuck and John Rubinstein. Susan was also seen in the final edition of The Fabulous Palm Springs Follies, entitled The Last Hurrah! in 2013.

Susan first emerged on the big screen in the film Goldengirl, and went on to appear in such other films as Making Mr. Right with John Malkovich, Cannonball Run II with Shirley MacLaine, Burt Reynolds and Dean Martin, New Jersey Turnpikes with Kelsey Grammer. Other movie credits include: Playing with Fire with Michael Bergin, Lena's Holiday, Options with Eric Roberts, and Spring Fever with Jessica Walter and Barbara Cook.

And, as she has in every other medium, Susan has been a significant star on the small screen. For three seasons, she was part of the cast of the world's most popular television series "Baywatch" playing the role of Jackie Quinn. She starred in the international series "Sail Away with Susan Anton," as well as The Travel Channel's "Las Vegas!" produced by Susan and her husband, Jeff. She also hosted Perfect Buns, one of the most prominent exercise infomercials on television.


Susan's other television credits include the Warner Brother's series "Nick Freno: Licensed Teacher," NBC's "City Guys," the critically acclaimed Steven Bochco series "Civil Wars," as well as "Law & Order: Special Victims Unit," "Dangerous Curves," "Out of This World," "Quantum Leap," "Night Court," "The Famous Teddy Z," "Murder She Wrote," "My Secret Identity," "Alfred Hitchcock Presents," "The New Mike Hammer," "The Love Boat," "Stop Susan Williams," "Switch," "Hunter," "Police Series," and "Serpico." She starred in ABC's "Cliffhangers" as well as her own variety show on NBC, "Presenting Susan Anton." She has displayed her comic abilities on Gary Shandling's "Larry Sanders Show," "The Ben Stiller Show," and "Blossom."
For Bookings or Appearances, Please Contact:
J. Cast Productions • 2550 Greenvalley Road • Los Angeles, CA 90046-1438
(323) 822-1999

email: JCast@CastProductions.com

Copyright © 2000 - 2015 J. Cast Productions - All rights reserved.