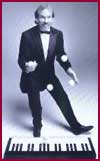 Dan Menendez Biography

Known as "The Piano Juggler", Daniel Menendez has fascinated audiences all over the world with his unique act. Along with a rapid fire comedy juggling routine, he has innovated a technique that enables him to play music, from Beethoven to contemporary tunes, on a synthesizer while he juggles.

Daniel was born on March 27, 1956 in San Jose, California. His mother was born in China to missionary parents and his father was an amateur magician, a former pro-fighter, and coached Mohammed Ali to a Gold Medal in the 1960 Olympics.

Daniel began juggling at age 11. After he graduated high school, he attended San Jose State University and received a degree in Physical Education. He became a teacher, but after one year left the teaching profession to become a pro-juggler. His juggling took him to various parts of the United States, Europe and Australia where he performed on the streets and mastered his craft.

Daniel has won many juggling awards, including the International Jugglers' Association Championship and the City of Sydney, Street Performer's Competition in Australia.

The pivotal point in his career, was when Daniel performed on "The Tonight Show" on December 29, 1989. He has since returned twice, including "The Tonight Show's 28th Anniversary Special." He has also had the privilege of performing at the Ford Theatre in Washington, D.C. for former President and Mrs. Bush.

His appearances on "The Tonight Show" catapulted him into comedy's mainstream, and he has since performed on a variety of television shows including "The Pat Sajak Show," "Comic Strip Live," "Nashville Now," "An Evening at the Improv," "Caroline's Comedy Hour," "The Super Dave Osborne Show," and Internationally on television shows in Japan, Italy, and London. Daniel was also a featured performer on the much esteemed Just For Laughs Showtime Special from the Montreal Comedy Festival where he received rave reviews and tremendous applause.

Daniel has made an instructional juggling video called "Who? Me? Juggle?." He continues to play theatres, cruise ships, clubs, show rooms in Las Vegas, Atlantic City, Reno to Lake Tahoe, and private corporate dates all over the world.
For Bookings or Appearances, Please Contact:
J. Cast Productions • 2550 Greenvalley Road • Los Angeles, CA 90046-1438
(323) 822-1999

email: JCast@CastProductions.com
HOME | THEATRE | COMEDY | MUSIC | LECTURES | SPECIAL | CONTACT
---