A Grammy Award Winner, multi-talented singer, songwriter, actress and international performer, Thelma Houston is an accomplished entertainer whose list of credits are a testament to her desire to meet new challenges and create new opportunities. With three decades as a recording artist to her credit, she proudly looks at her career rich in achievement.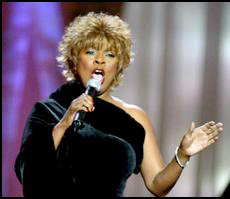 Thelma's busy schedule has included a whirlwind of recording, film, television and songwriting activities and constant performances literally around the globe. In May of 2004 she was a special guest star on The MOTOWN 45th Anniversary a major ABC's Primetime Special which honored the # 1 hit songs from the MOTOWN era. 2003 TV credits included guest starring on ABC's "The Disco Ball," along with appearing during sweeps week on "Family Feud" and "$25K Pyramid". Thelma opened for Cher's Farwell Tour in Toronto and toured nationally in the Disco Tour. She appeared in Oprah Winfrey's much-acclaimed 1998 movie, Beloved and towards the end of that year, she performed as part of a special stage show called The British Rock Symphony in Australia with a thirty-piece orchestra paying tribute to the legends of British pop and rock. Thelma also recorded three cuts for the show's cast album (featuring Roger Daltrey, Paul Rogers and Ann Wilson of Heart among others), released worldwide by Point Music/PolyGram. The show toured all major European markets to great acclaim at the end of 1999.
In the last few years she's toured throughout the U.S. in standing-room-only concerts with dance music legends like Gloria Gaynor, Evelyn 'Champagne' King and K.C. and the Sunshine Band. She co-wrote a song ("The Night I Fly") for the 1998 film '54'. And whether she's appearing in Mexico City, Tokyo, Las Vegas or London, Thelma Houston has brought audiences to their feet with her dynamic, energetic stage show. The ever-soulful songstress on enjoying moments of her ongoing career: "I still feel tremendous excitement about performing", says an upbeat Houston. "It's such a part of me, and something I have to do. I used to see success in a whole different light, but you know what, I feel really blessed because I'm constantly working and I truly love what I do!"
What Thelma Houston loves to do is share her natural gifts and she's been doing just that for as long as she can remember. "I've been singing since I was three" says the Mississippi-born native who moved to Long Beach, California when she was ten. "My baby-sitter, who was also the piano player at our church would play hymns and I'd sing them. After that I started singing in church myself and anywhere else I could!"
Like so many other great performers who began their musical journey in the church, Thelma's obvious vocal talent resulted in an early career in gospel music. She was a member of the renowned gospel group, "The Art Reynolds Singers" and recorded with them before launching her own career in pop and R&B in the late 60's. Her first album, "Sunshower" was produced by legendary songwriter Jimmy Webb and was hailed by critics and music fans alike as a triumphant debut from a rising new star.
Thelma's breakthrough into mainstream recognition and international acceptance came after she signed with Motown Records in the 70's. After recording the theme for the Richard Pryor hit movie, "The Bingo Long Song," Thelma hit the top of the pop, R&B and dance charts with her high-powered rendition of "Don't Leave Me This Way" (originally recorded by Harold Melvin & The Bluenotes). A gold single, the now-classic song gave Thelma the distinction of being the first solo female artist at Motown to win a Grammy Award for "Best R&B Female Vocal Performance" in 1977 and virtually took her around the world. A few of her other hits include: "Saturday Night, Sunday Morning," "I Can't Go On Living Without Your Love," "I'm Here Again," and "If You Feel It."
Known for her emotive style and passionate delivery, Thelma showed her musical versatility with the jazz-flavored "If It's The Last Thing I Do," a Top 20 R&B in 1977, recording a couple of albums with soul legend Jerry Butler at Motown before scoring further success at RCA and MCA records in the 80's. It was at MCA that she gave then-fledgling producers Jimmy Jam & Terry Lewis one of their first Top 20 R&B hits with the dance jam "You Used To Hold Me So Tight" and Thelma ended the decade with a rousing gospel-flavored version of Bill Withers' "Lean On Me", recorded with The Winans and featured in the hit movie of the same name starring Morgan Freeman.
Continuing to display her many talents, Thelma co-wrote "Be Yourself", the title track for Patti LaBelle's 1989 hit album. Her burgeoning skills as an actress first became apparent in the 70's and her resume includes the movies Death Scream, The Seventh Dwarf, Game Show Models, and most recently, a remake of And God Created Woman, which also starred Rebecca DeMornay. Her music has been heard in a number of hit films such as Thank God It's Friday, Looking For Mr. Goodbar, Norman, Is That You?, Into The Night and Lean On Me.
Thelma's numerous television credits include guest starring roles on "Cagney & Lacey," "Simon & Simon," "The Marty Feldman Comedy Machine," VH1's "Greatest Dance Songs," and "Fairie Tale Theatre".
In 1998 she also performed in the initial workshop for The Legend, Debbie Allen's adaptation of Ibsen's "Pier Gynt", with music by James Ingram, which also starred Hinton Battle and Jasmine Guy among others.
Known as a humanitarian for her ongoing support for a variety of charitable causes and most specifically for her tireless efforts in the battle against AIDS, Thelma participated in a special benefit in 1994 at New York's Algonquin Hotel with other major female artists (Phoebe Snow, Chaka Khan and CeCe Peniston under the banner "Sisters of Glory"). The show was so electrifying that Thelma and the other members of the created group were asked to open Woodstock the same year, singing traditional gospel songs. An invitation to perform at The Vatican for The Pope followed and in 1995, Thelma participated with Snow, Peniston and gospel great Albertina Walker on the Warner Brothers album, "Good News in Hard Times".
Aside from her own Reprise album, "Throw You Down", Thelma's recording activities has included guest appearances with guitarist Scott Henderson on his 1997 CD "Tore Down House" (for Atlantic) and guitarist Eric Henderson on his JVC CD "Faces", also in 1997. Thelma can also be heard on the soundtrack for the film Into The Night and recorded in the UK with well-known producer Joey Negro in 1996.
The last few years have included a great deal of globe trotting for the singer: she's performed in Switzerland, Indonesia, France, Chile, Singapore and Malaysia as well as appearing at major concert venues, private parties, corporate events, throughout the U.S. where she averages 175 shows per year. Thelma's appeared with many of the top names in the world of entertainment including the late Sammy Davis Jr., Lou Rawls, Neil Sedaka, Engelbert Humperdink, Smokey Robinson, The Temptations and The Four Tops.
Her late '98 month-long Australian engagement as part of the "British Rock Symphony" (with Eric Burdon) showcased Thelma's stunning versions of Pink Floyd's "Comfortably Numb" and The Rolling Stones' "Ruby Tuesday", a reminder that her sizzling cover of the Stones' "Jumpin' Jack Flash" was featured on her very first album "Sunshower".
The year 2000 found Thelma Houston back in Australia starring in the Broadway musical Fame. Rave reviews, sold out performances to SRO crowds from Sydney to Perth kept Thelma in Australia for the better part of twelve months firmly establishing Thelma's reputation as a legitimate stage actress.
Thelma Houston has traveled a long way since her first album and she shows no signs of slowing down. "I have so many things I want to do", she says with typical enthusiasm and energy. "I want to do a CD of original dance music because the fans of that music have been so loyal to me over the years. I'd like to do a jazz album and a gospel album to remind people of my musical roots. There is still so much for me to do and to be honest, I didn't think I'd be doing all of this for so long. But I'm very grateful and I appreciate my career now more than ever and there's no end in sight!"