presents:
Loretta Swit
starring in
The London and Broadway Smash-Hit Comedy!
SHIRLEY VALENTINE
by Willy Russell

Original Staging in London and New York
by Simon Callow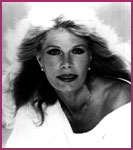 Loretta Swit Biography

Few actresses can capture the imagination of a generation of television viewers with the certainty and charm of Loretta Swit. As quickwitted, impassioned Major Margaret Houlihan of television's most honored series, "M*A*S*H," Ms. Swit became an American icon and with the popular program now in worldwide syndication, new fans continue to enjoy her lavish portrayal of the sensuous, sensitive, comedic Major Houlihan.

There's more to Loretta Swit than mere prime-time perfection. Honored with such recognition as the People's Choice Award, The Genie Award, The Silver Satellite Award, The Jean Golden Halo Award and two Emmy Awards, Ms. Swit's talents are far–reaching and varied. She acts, she dances, she sings—and her career has teamed her with some of the most memorable names in the world of entertainment.

Ms. Swit made her Broadway debut in Same Time Next Year opposite Ted Bessell, and later appeared in The Mystery Of Edwin Drood, replacing Cleo Laine. She has toured with national companies of Any Wednesday, and with two companies of Mame, starring as Agnes Gooch alongside two illustrious "Mames", Susan Hayward and Celeste Holm. Between innumerable television and cinema appearances, she has appeared in over 500 performances of Shirley Valentine, a role for which she has won Chicago's most prestigious theatrical honor, The Sarah Siddons Award. Ms. Swit was also seen in touring companies of the musical comedy Song of Singapore, while continuing to perform select dates of Shirley Valentine and Love Letters with Anthony Franciosa.

Her television career, aside from "M*A*S*H," includes over 25 movies, including the original "Cagney and Lacey," in which she created the role of Chris Cagney. Others include "Games Mother Never Taught You," "Hell Hath No Fury," "The Execution," and "A Killer Among Friends" (the highest rated movie of the year). Ms. Swit has also sung and danced her way through most of television's musical specials, most notably "The Muppet Show," with Kermit and Miss Piggy. Each year, she can be seen in the annual specials "The Best Christmas Pageant Ever," "Miracle At Moreau," and "A Christmas Calendar," aired worldwide during the holidays.

Loretta Swit's versatility and presence do not end here—her dynamic acting range has placed her in some heady company on the big screen as well. Ms. Swit has starred in such films as STAND UP AND BE COUNTED with Jacqueline Bisset, FREEBIE AND THE BEAN with James Caan, and Alan Arkin, RACE WITH THE DEVIL with Peter Fonda BEER opposite Rip Torn, Blake Edwards' S.O.B. with Julie Andrews and William Holden, WHOOPS APOCALYPSE with Peter Cook and Herbert Lom, THE LORDS OF TANGLEWOOD with Chuck Norris and BOARDHEADS in which she co–starred with Bronson Pinchot.

Ms. Swit's wildlife series, "Those Incredible Animals," was shown twice weekly on the Discovery Channel for an amazing five–year run, and now can be seen on Animal Planet, as well as being aired in over 30 countries. As impassioned about animals as she is about her career, Ms. Swit is an active board member of the Actors and Others For Animals, The Wildlife Waystation, the Hooved Animal Rescue Protection Society (HARPS) and the Ark Trust. She has served as a spokesperson for the Humane Society of the United States. For her ceaseless humanitarian efforts, she has been named Woman of the Year by both the Animal Protection Institute and the International Fund For Animal Welfare.
For Bookings or Appearances, Please Contact:
J. Cast Productions • 2550 Greenvalley Road • Los Angeles, CA 90046-1438
(323) 822-1999

email: JCast@CastProductions.com
HOME | THEATRE | COMEDY | MUSIC | LECTURES | SPECIAL | CONTACT
---