Tim Watters
Available for Lectures, Film, Television,
Stage and Radio Appearances


Tim Watters
A Biography
"Will the real Bill Clinton please stand up?"
That's what you would say if President Clinton and "Mr. President" Tim Watters sat in the same room together. Watters is a comedian and actor whose appearance is so authentic that when the real president spoke on television, his son would say "Daddy!"


A former real estate agent from Florida, Tim Watters recalls, "Not a day would go by when someone wouldn't come up to me and ask if I'm Bill Clinton, or tell me how much I look like the president." Watters found all this amusing, considering that it all started as a big joke around the office about the time of the presidential election. "Every day, when I would return to my office, there would be another picture of Bill Clinton on my desk... so I decided not to let the opportunity pass me by."



Tim Watters now pursues the role of Bill Clinton and "Mr. President" on a full time basis for television, film and special events. To prepare, he wets his hair, applies a grey mousse, and then blows it dry using white hair spray for highlights. The final look is extremely believable, but it doesn't stop there. Watters is accompanied by four or five people dressed as Secret Service agents, complete with earpieces and sunglasses, and occasionally has a limousine decked out with American flags with the stereo blasting Hail to the Chief.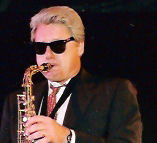 The likeness to Bill Clinton as "Mr. President" has garnered Tim Watters national recognition on such shows as "The Tonight Show," ""Entertainment Tonight," "CBS Morning News," "CNN," "Larry King Live" and "Dateline NBC." Tim Watters has also been a celebrity guest on television shows from Japan to Germany, AND he has even learned to play the saxophone.

Tim Watters' greatest satisfaction came at a political rally where Bill Clinton was running late. Hillary Clinton was sent to greet the crowd; as she walked five feet in front of him, the first lady did a HARD double-take. Later, one of the president's campaign workers came up and shook his hand, saying, "I just had to meet the Clinton Clone."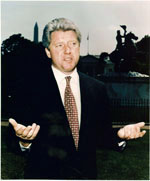 Tim Watters has appeared on television and in movies as President Clinton, including: Casino Jack, "The Nanny," "WWF Raw,"Life or Something Like It, Austin Powers: The Spy Who Shagged Me, and Naked Gun 33 1/3: The Final Insult. He also appeared on many talk shows including appearing over 250 times on "The Tonight Show" with Jay Leno, and other shows including, "Entertainment Tonight," "Jerry Springer," "Larry King Live," "The Maury Povich Show," and "Equal Time with Mary Matalin." He also had roles in The People I've Slept With and Contact with Jodie Foster and Matthew McConaughey.
Go to:
Tim Watters Corporate Clients
For Bookings or Appearances, Please Contact:
J. Cast Productions • 2550 Greenvalley Road • Los Angeles, CA 90046-1438
(323) 822-1999

email: JCast@CastProductions.com

Copyright © 2000 - 2015 J. Cast Productions - All rights reserved.