Linda Gray
Also Available for Lectures, Film, Television,
Stage and Radio Appearances
Along with DALLAS 45th Anniversary Reunion / Back2Dallas
and Love Letters with Patrick Duffy



Linda Gray

Linda Gray is an award winning actress, an accomplished director, a United Nations Ambassador and one of the world's most recognized and admired stars.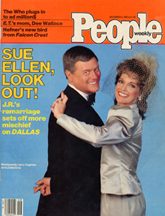 Her award winning portrayal of 'Sue Ellen', in the TV series "Dallas", brought her international fame and critical acclaim earning her an Emmy nomination for Best Actress and numerous international awards including Germany's Bambi Award, Italy's Il Gato for Best Actress on Television and she was voted 'Woman of the Year' by the Hollywood Radio & Television Society. It was during the original "Dallas" series that Linda made her directorial debut on "Dallas", gaining experience working as a director on the show.

In 2010-2011, Linda filmed an independent movie in Greece, "The Flight of the Swan", and starred in the family film A Very Mary Christmas which aired on TV November 2011. She also worked on a film in Mexico, a drama, Hidden Moon. She co-produced and appeared in a theatre reading of Bette Davis Speaks, which was adapted for the stage by award winning playwright and screenwriter Dan Gordon, based on a book by journalist Boze Hadleigh, taking a look at the sharp wit of the iconic and legendary movie star.

She appeared on stage in England in the original stage production of Terms of Endearment, based on the screenplay of the Oscar winning motion picture, and also starred in the West End production of The Graduate playing to sell-out audiences, and replaced Kathleen Turner on Broadway for a limited engagement. In London, Linda was in the production of Cinderella playing the Fairy Godmother at the New Wimbledon Theatre.

Linda made her theatre directing debut with Murder in the First, and other acting stage work includes The Vagina Monologues, Agnes of God and Love Letters. She has numerous TV credits including the successful series "Melrose Place" and "Models Inc." and has starred in many movies-of-the-
week. Linda has her own production company and is in pre-production on an original film story and will make her motion picture directorial debut on this project.

Currently she can be see in the 45th Anniversary of "Dallas" Reunion, along with performing in Love Letters around the world.
Go To:
Love Letters
For Bookings or Appearances, Please Contact:
CAST PRODUCTIONS • Los Angeles, CA
(323) 822-1999

email: JCast@CastProductions.com

Copyright © 2000 - 2023 Cast Productions - All rights reserved.