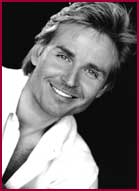 Jeff Trachta Biography

An international recording artist and actor, Jeff is best known to over 450 million viewers as Thorne Forrester on CBS's "The Bold & The Beautiful" a role he did for over eight years. "The Bold & The Beautiful" is broadcast to over 100 countries around the world and is the top-rated Prime-time show in many of them.

Singing on "The Bold & The Beautiful" has led to an exciting international recording career. Jeff's debut album Bold and Beautiful Duets, with Bobbie Eakes, soared to the top of the European charts within one month of its release. "Duets" was the first of Jeff's three albums all of which have achieved triple platinum sales worldwide. Jeff has performed sold-out concerts in stadiums and arenas around the world and most recent from Holland, Switzerland, Italy, India, Finland, Germany, Belgium and South Africa.

Jeff made his Broadway debut starring as Danny Zuko in Tommy Tune's revival of Grease at the Eugene O'Neill Theatre. Jeff's award-winning one man play Agency ran for over a year in Los Angeles. He received rave reviews and won the coveted Robby Award and Los Angeles Critic Choice Award for Best Performance in a Solo Comedy Play. The show, which Jeff co-wrote, was produced by Castle Rock Entertainment. Jeff received an Ovation nomination and won the 1998 Dramalogue Award for Best Comedy Performance for his role as Kenny Brewster in the Los Angeles premiere of Three Guys Naked From The Waist Down. The Los Angeles Times states, "Trachta's Kenny is a subversive, tragicomic tour-de-force. Whether he's playing a Chihuahua in hysterics, singing a heartfelt ballad, or charting the crackup of a comic genius, Trachta is superb."

Jeff's other stage credits include: The Phantom in Phantom Of The Opera, Birdie in Bye, Bye, Birdie with Rue McClanahan, The Dentist in Little Shop of Horrors, Andy in Love Letters, Prince Charming in Cinderella, with television legends Steve Allen, Jayne Meadows and Rose Marie and Joseph in Joseph And The Amazing Technicolor Dreamcoat at ArtPark in New York. In the fall of 2000, he did the PBS TV-Special of Nuncrackers playing Father Virgil. In addition to the above, Jeff has played opposite some of the comics greats of our time, including Bob Hope, Phyllis Diller, Carol Channing, and Robert Klein.

Jeff television and film roles include guest starring on Pamela Anderson Lee's international hit "V.I.P.," co-starring as Brent Jeckyll in "Here Come The Munsters" for FOX Television, on Comedy Central's "Strip Mall" with Julie Brown, ABC's "Loving" as Hunter Belden, Boyce McDonald on "One Life To Live" also ABC, leading roles as Steve Caldwell in the film FATAL PASSION for Royal Oaks Entertainment, and J.J. in the film DO IT UP directed by Robby Benson. He also co-produced and starred in the film INTERLOCKED also released as BOLD AFFAIR. And the soon to-be-released feature film include POISON for Franchise Pictures. Jeff has also appeared on numerous talk and news shows from "LIVE with Regis and Kathy Lee," to "Good Morning America," and "Entertainment Tonight".

Hosting credits include The Miss World Pageant, Miss National Pre-teen Pageant (3 times), and Miss South Africa Pageant to name a few.

Jeff is also a popular stand-up comedian and impressionist. The Los Angeles Times calls him, "Hilarious! Trachta displays a vocal versatility to rival the late Mel Blanc's."

In between his busy schedule, Jeff is currently developing his fourth album.
For Bookings or Appearances, Please Contact:
J. Cast Productions • 2550 Greenvalley Road • Los Angeles, CA 90046-1438
(323) 822-1999

email: JCast@CastProductions.com
HOME | THEATRE | COMEDY | MUSIC | LECTURES | SPECIAL | CONTACT
---