Will Durst has an identity crisis, and the media is no help at all. The LA Times calls him,"A modern day Will Rogers." The San Francisco Examiner argues he's "the heir apparent to Mort Sahl and Dick Gregory."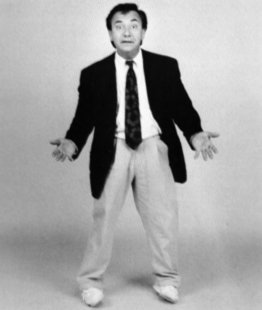 The Chicago Tribune hails Durst as an "hysterical hybrid of Hunter S. Thompson and Charle Osgood." He is America's premier political comic, but you could more precisely refer to him as a renegade social commentator, or crusty but benign populist windmill tilter, or how about just a bi-partisan smartass.
Durst finds his material in the eight newspapers he reads every day. "You can't make stuff up like this." He's outraged and outrageous. As topical as the day's headlines; from the President to the Pope to the Post Office, no one escapes his scathing hits. "Politicians are people who lie to the press and then believe what they read." "Clinton is such a chameleon, you could kill him by locking him in a plaid room." "Newt Gingrich says he wants to work with Bill; yeah, the same way a five year old with a magnifying glass wants to work with ants. He's not a politician, he's Pete Rose with rabies."
William Tell Bruce John Henry Durst Jr. grew up in Milwaukee, Wisconsin but moved to San Francisco because "comedy is illegal in Milwaukee."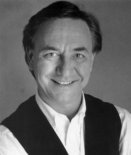 This self-described "blue collar comic" held over 100 jobs before finally earning a living making people laugh out loud on purpose against their will. He ran for mayor of San Francisco, came in 4th out of 11, spent $1,200 and got 2% of the vote: so on a dollar per vote basis, he IS mayor of San Francisco.
The only comic ever invited to perform at Harvard's Kennedy School of Government,
Durst writes a daily column on the Internet, his radio commentaries can be heard on PRI's "Marketplace" and he pens monthly columns for "George", "The Progressive" and "Funny Times" magazines, along with occasional editorials for various newspapers including the New York Times. Host of 2 PBS series premiering Fall of 1997: "The Durst Amendment" & "livelyhood"; the Dark Prince of Public Broadcasting is a veteran of every comedy show featuring a brick wall, including HBO, Showtime and Letterman, and was nominated for a Cable Ace Award for his A&E's "A Year's worth with Will Durst". The Susan Lucci of stand up, Durst has been nominated 7 times for the American Comedy Awards Male Stand Up of the Year, but has yet to win. Hobbies include the never-ending search for the perfect cheeseburger, and his heroes are the same as when he was twelve: Thomas Jefferson and Bugs Bunny.
Will Durst's Performances are made possible by the First Amendment