CELEBRITY GAME NIGHT
LIVE!

starring
With Your Favorite
Film & TV Stars!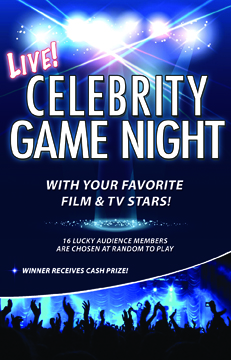 CELEBRITY GAME NIGHT
If you love TV Game Shows this event is a wild night of fun - Live on your stage with TV & Film Stars playing games competing against each other till one audience member is the grand winner.
16 Lucky audience members are chosen at random to play. 8 in act one and 8 in act two with the winning teams in each act, doing a speed round until a winner is choosen.
Loads of laughs, out-takes from the Celebrity hosts, and an audience who feels they all got a chance to meet and play with a Hollywood Star.

Call us for complete list of Celebrities Available for your area!

For Bookings or Appearances, Please Contact:
J. Cast Productions • 2550 Greenvalley Road • Los Angeles, CA 90046-1438
(323) 822-1999

email: JCast@CastProductions.com

Copyright © 2000 - 2015 J. Cast Productions - All rights reserved.